At e5 Bakehouse, we aim to bring out all the flavours that we can from our ingredients. We use cultured raw butter, fresh fruit and vegetables from Fellows Farm and freshly milled stoneground flour; the ingredients change based on the season, and we love the challenge of using them to their full potential with new recipes.
For cake orders please contact us on info@e5bakehouse.com or give us a call.
Content blocks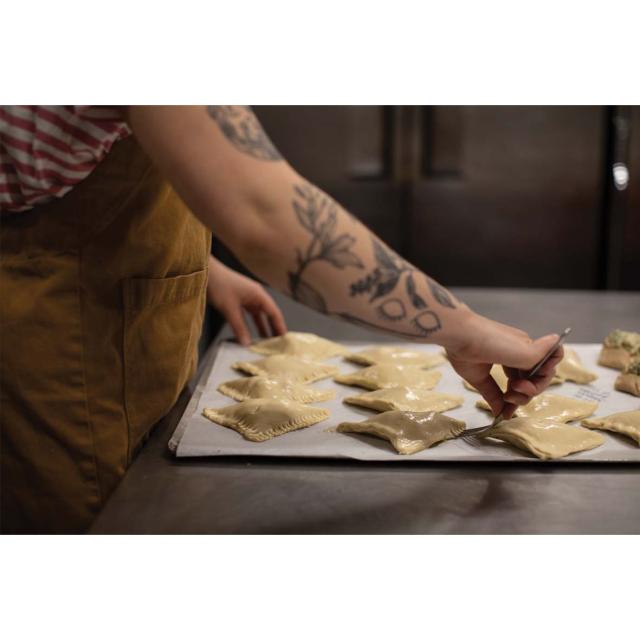 PASTRIES
The perfect e5 croissant has a beautiful, fairly dark and very crispy outside with a light, fluffy honeycomb structure inside. The ingredients of a croissant are fairly simple, so the products you use can make a big difference to its flavour. Currently we use three different types of stoneground flour to make our croissants. As we rely on different harvests of grains for our flour throughout the year, we regularly review what needs to be adjusted in our recipe. All our pastries, including croissants, are now made with Fen Farm Dairy raw cultured butter, and it has changed the flavour of so many of our products for the better. Each batch uses different culture, and it is fantastic to taste the different flavours that emerge as a result, and to adapt our recipes accordingly. 
Our customers are often amazed by the fact that there is so much choice when it comes to pastries, from a beautiful flaky croissant or a sweet sticky cinnamon bun to our savoury offerings such as our creamy vegan mushroom pie, spanakopita, spicy carrot puff. As Fellows Farm has expanded over the years, we have had access to a greater variety of vegetables, herbs and fruits and try to use as much as we can. All our pastries are made fresh on site in small batches. If you'd like to order something sweet or savoury for a special occasion, give us a call or email us and we'll send a list of our current offerings.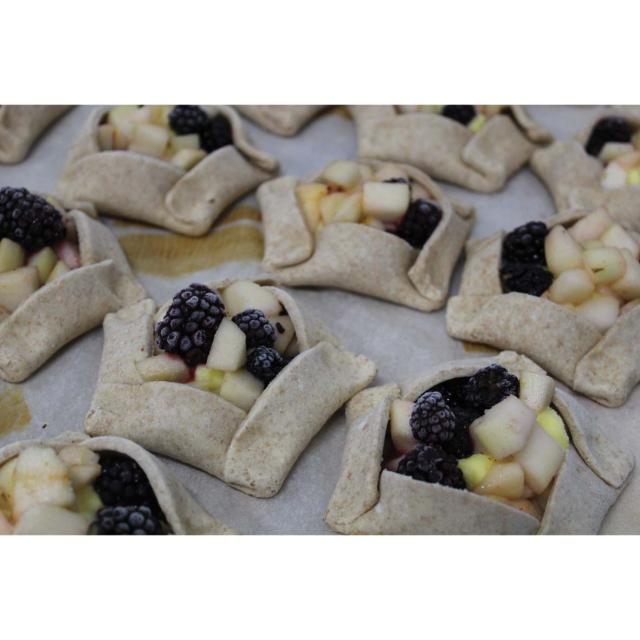 CAKES, COOKIES & GRANOLA
Besides pastries, we also offer a big variety of freshly baked cookies and cakes. We have some of our classics out there every day such as the beloved chocolate rye cookie, amaretti biscuits, vegan almond jam cookie and of course our triple chocolate cookie with brown butter and rye flour! We put a lot of time and care looking for great ingredients to use in our daily bakes. For instance; all our chocolate comes from Original Beans, a Dutch company building climate-positive supply chains, encompassing the protection of endangered wildlife and tripling farmer incomes. Besides these sustainable journey they also deliver an incredible variety of delicious chocolate. Most of our ingredients are organic or come from local producers. 
We try to use as many different types of stoneground flour we can in all our bakes. The days of only using plain flour in cakes are over! Our smalll pastry team is always busy testing new recipes for seasonal specials. Keep an eye out on our Instagram page. Customers seem to love our spelt apple cake with olive oil and our hearty walnut cake. Both of which use our sourdough starter, this attributes to its flavour and helps to keep the cake moist and fresh.
For many years we've been making our classic granola, very popular as a breakfast option combined with a drizzle of honey and fresh seasonal fruit! Both our granolas are available for sale in the Millhouse shop.